Coconut oil is STILL HEALTHY for you! Coconut oil has been a dietary staple of many civilizations for years and years, and it provides healthy, high quality fat that benefits your health. It helps support healthy thyroid function, boosts your metabolism, balances blood sugar, and is an excellent low glycemic, ketogenic fuel to use for energy.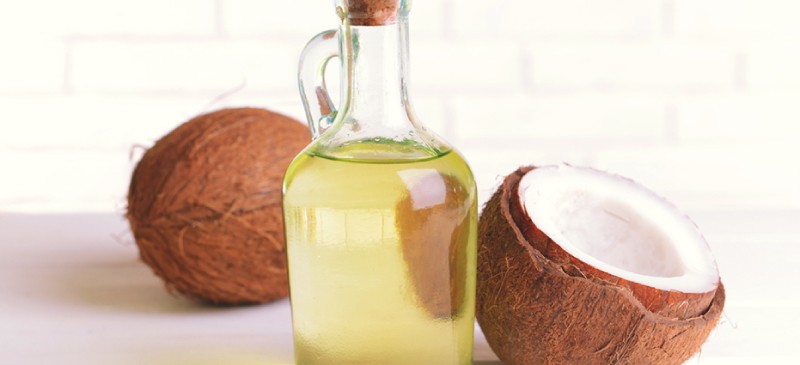 After the world replaced meat, butter and eggs (which were staples of the American diet back when heart disease wasn't even on the map yet back in the early 1900's) with processed margarine, grains, and vegetable oils, we watched as populations grew obese, heart disease increased, and diabetes and other inflammatory diseases increased dramatically over the last 50 years. Instead of improved health, Americans have just gotten fatter and sicker. Heart disease rates increased, even though people have been eating what the AHA suggests is a heart-healthy diet. So if the AHA's advice didn't work 65 years ago, WHY would it start working now?
Keys tried to show that dietary saturated fats contributed to heart disease, ignoring the fact that processed carbs and sugar were major contributors to heart disease. When researchers have gone back in and looked at the data from all of the countries, there actually was no link between fat consumption and heart disease deaths, and there was no consideration of other factors such as smoking rates, stress factors, sugar intake, exercise frequency, or other lifestyle factors. So his conclusions were not actually even valid!
We have already discovered that Ancel Keys' study on cholesterol and diet in the 50's and 60's was extremely flawed.
The Kitavans and The Tokelau people really did show zero signs of heart disease despite eating a diet high in coconut fat. They actually started getting fat, heart diseased, and diabetic after they started eating a more modern diet full of wheat, sugar, and vegetable oils. Not only were these primitive tribes extremely healthy, they were lean and had very little disease or health issues.
Coconut oil also contains lauric acid that helps to increase your healthy HDL cholesterol, and boost the immune system
Coconut oil is also very beneficial to the hair and skin for a healthy scalp and to ease skin irritations, as well as being an excellent moisturizer. Coconut oil reduces cavities when used as a tooth brushing aid, and the lauric acid it contains has powerful antimicrobial effects, even on toenail fungus.
Don't believe the AHA when they say that you will have a heart attack from coconut oil. Heart disease is caused primarily by inflammation in the blood vessels, brought on by inflammatory, highly processed (that's most all of them) vegetable oils, sugars, and starchy refined processed carbohydrates.
Trans fats (artificially hydrogenated oils) proven to be major contributors to heart disease
Heavily refined inflammatory vegetable oils such as soy, canola, cottonseed, corn oil, etc. Read more about healthy cooking oils vs unhealthy cooking oil here
Too much refined sugar, especially high fructose corn syrup
High intake of carbohydrates such as 'whole grain' bread, packaged cereals, snacks, crackers, etc
Smoking
Stressful lifestyle
Lack of exercise
More than 17 studies and analyses have been unable to establish a clear link between saturated fats and CVD. And the American Heart Association cherry-picked their studies–some of them as old as 50-60 years old to use for their latest report. Tell me, does that make ANY sense?
Well, do you know anything about the American Heart Association? This organization is a non-profit organization made up of cardiologists and other medical professionals. The American Heart Association (AHA) is an organization with a mission to "build healthier lives free of cardiovascular disease and stroke." In their 2011-2012 financial statement, the AHA noted $521 million in donations from non-government and non-membership sources and many well-known large drug companies, including those who make and market statins, contribute amounts in the $1 million range.
A quick look at some of their funding sources includes:
Amarin (Pharmaceutical Company)
Amgen (Pharmaceutical Company)
AstraZeneca (Pharmaceutical Company)
Eli Lilly (Pharmaceutical Company)
Glaxo-Smith Kline (Pharmaceutical Company)
Merck (Pharmaceutical Company)
Pfizer (Pharmaceutical Company)
Regeneron/Sanofi (Pharmaceutical Company)
Takeda (Pharmaceutical Company)
California Walnut Commission (incentivized to undermine saturated fats)
Ag Canada and Canola Oil Council (incentivized to undermine saturated fats and promote vegetable oils).
(More funding sources here)
In addition, the AHA takes in millions from big food companies, who—besides their donations– also pay $5-7,000 per product to gain the 'heart-check mark' that goes on the labels for advertising. These foods merely have to be low in fat and saturated fat and cholesterol. Doesn't really matter how refined or how much sugar is added. Take a look at some high sugar cereals in the supermarket and you will see that they have the 'heart-check' mark, in spite of the fact they are one of the biggest causes of obesity, heart disease and diabetes. Hmmm.
It doesn't take a genius to see that there may be a (not-so-hidden) agenda, as in:
…take statin drugs, eat more vegetable oil like canola oil, and only eat the AHA 'approved products'. Isn't that the advice that increased heart disease and created a country of overweight, unhealthy adults?
Sheet Pan Vegetable Hash with Eggs Rating:
5 starshttps://www.marthastewart.com/1544479/sheet-pan-vegetable-hash-eggs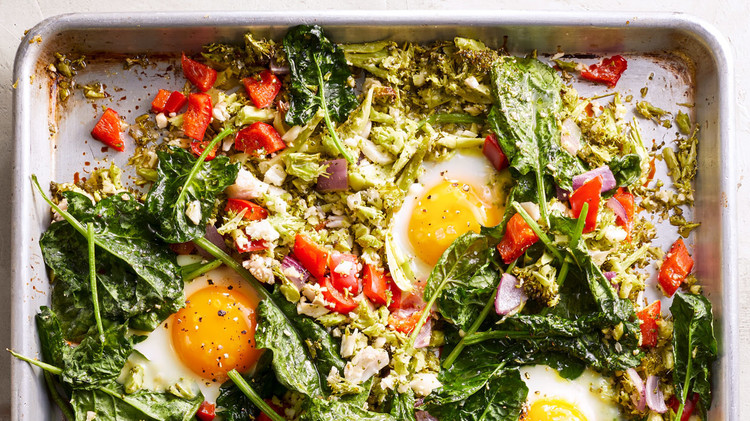 Flipping the script on what a hash is supposed to look like, this one-pan-wonder swaps potato for finely chopped cauliflower and broccoli, making this simple plant-based bake as nutritious as it is delicious.
Recipe Summary
Prep:20 mins
Total: 55 mins
Servings: 6
Ingredients
• 1 small head cauliflower, trimmed, cored, and cut into florets
• 1 pound broccoli, trimmed, stem peeled, and cut into 1 inch pieces (greens and stems)
• 1 red bell pepper, seeded and diced
•1/2 red onion, diced (1 cup)
• 1/4 cup extra-virgin olive oil
• Kosher salt and freshly ground black pepper
• 2 packed cups baby spinach
• 6 large eggs, room temperature
Directions
• Step 1 Preheat oven to 425°F. Pulse cauliflower in a food processor until finely chopped (you should have about 4 cups). Transfer to a rimmed baking sheet. Repeat with broccoli and transfer to baking sheet. Add bell pepper and red onion and drizzle with olive oil; toss until well combined. Season with salt and pepper; spread in an even layer and roast, stirring once, until golden around edges, 25 to 30 minutes.
• Step 2 Remove sheet from oven; stir in baby spinach. Make 6 small wells in mixture with the back of a spoon. Crack an egg into each well and bake until whites are just set, about 5 minutes. Season eggs with salt and pepper and serve immediately.
There is a link between the motivation to do things and chronic low-grade inflammation!
The journal Trends in Cognitive Sciences Researchers from Emory University published that "inflammatory cytokines signal immunometabolic shifts," which directly impact mesolimbic dopamine (DA). The mesolimbic pathway, also referred to as the "reward pathway", is implicated in the willingness to put in effort or seek reward. These findings could impact the way we look at behavioral challenges - for which a causative factor may be inflammation. info@bioticsresearch.com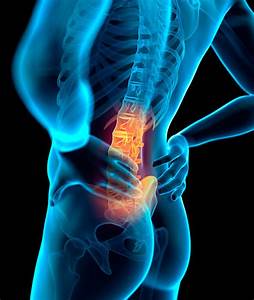 Dr Gundry's Plant Paradox book explains causes of inflammation caused by lectins. The book provides a list of foods to eat that decrease the exposure to lectins. As a cardiologist he had many patients heading for heart surgery that used this diet to prevent having to have the heart surgery. At this point people with other diseases have brought their inflammation down causing a direct effect on decreasing symptoms of their illness.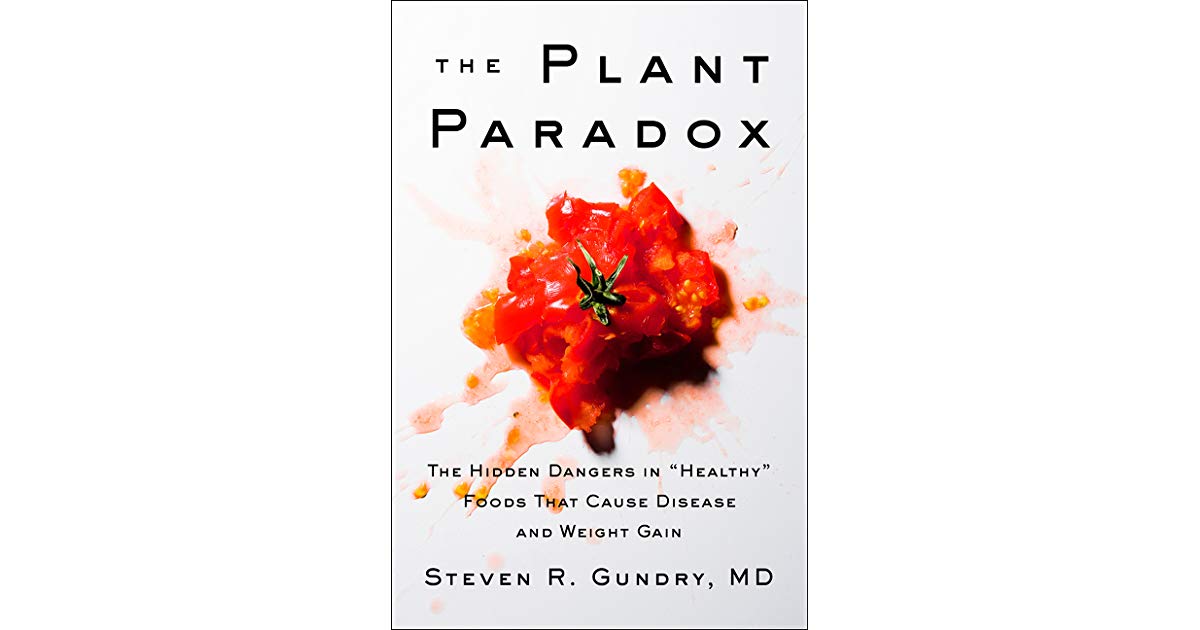 Standard Process Purification Program
The 21-day Standard Process Purification Program isn't just a cleanse diet. It's a structured program that brings healthy lifestyle habits into focus.
It's designed to purify, nourish and help patients maintain a healthy body weight by eating whole foods, exercising, drinking nutritious shakes and taking supplements made with whole food and other ingredients.
The menu includes a varied abundance of fresh vegetables and fruits for the first 10 days, with select proteins added on day 11. The supplements support the body's ability to remove naturally occurring toxins. This promotes a state that allows for toxin release.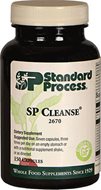 SP Cleanse combines 20 unique whole food and botanical ingredients designed to support the body's normal toxin-removal processes.
• Supports healthy kidney, liver, and gallbladder function
• Encourages healthy digestive function
• Supports the body's natural toxin-elimination function
• Promotes healthy elimination*
Suggested Use: Seven capsules, three times per day on an empty stomach or with a nutritional supplement shake, or as directed.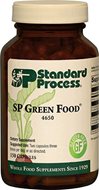 SP Green Food provides a simple way to supplement the diet.*
• Promotes healthy liver function
• Supports overall cellular health
• Supports cholesterol metabolism, to help maintain cholesterol levels already within a normal range
• Supports the body's normal toxin-elimination function
• Can be used as nutritional support in the Standard Process Purification Program*
Suggested Use: Two capsules three times per day, or as directed. Please consult the actual product label for the most accurate product information.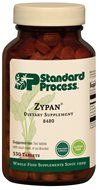 Zypan® combines pancreatin, pepsin, and betaine hydrochloride to facilitate healthy digestion.
• Supports macronutrient digestion
• Supports gastric pH
• Includes stearic acid to coat the pancreatin, helping it to be digested in the correct area of the digestive tract
• Provides enzymatic support for protein digestion
• Supports the environment of the GI tract*
Suggested Use: Two tablets with each meal, or as directed.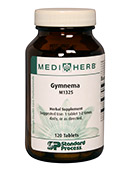 Gymnema contains a complex mixture of saponins (gymnemic acids) and other compounds. This product is standardized to contain 100 mg per tablet of gymnemic acids to ensure optimal strength and quality. The substances in Gymnema work together to:
• help reduce sweet cravings
• help suppress/inhibit sweet taste sensation*
Suggested Use: 1 tablet 1 - 2 times daily, or as directed.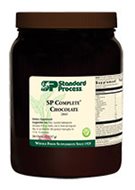 SP Complete Vanilla or Chocolate offers essential whole food nutrition in a convenient powder with delicious vanilla or chocolate flavor.*
• Provides amino acids
• Supports intestinal, muscular, and immune system health
• Provides ingredients with antioxidant activity
• Supports healthy liver function
• Supports the body's normal toxin-elimination function
• Contains nondenatured whey proteins that have kept their nutritional integrity throughout the manufacturing process
• Supports the maintenance of a healthy weight when combined with a healthy lifestyle
• Natural flavors made without the use of monosodium glutamate (MSG)
• Adds vital nutrients to any diet and can be used as nutritional support in the Standard Process Purification Program*
Suggested Use: Four rounded tablespoons (scoops) in 8 ounces water. One to three servings per day, or as directed. Mix thoroughly for 10-15 seconds.
Keto Biscotti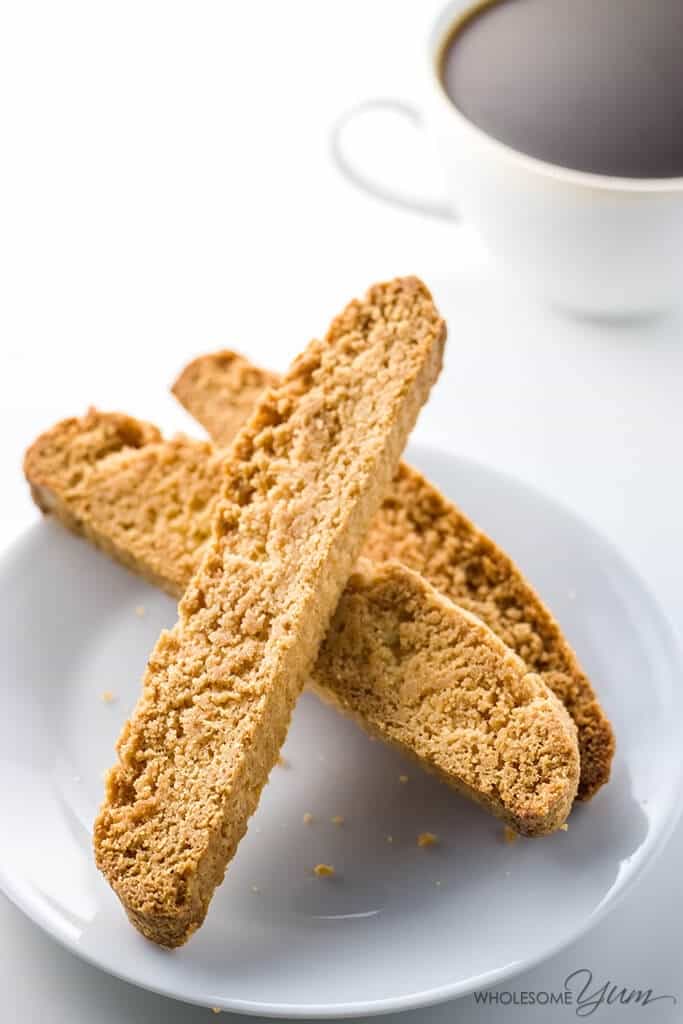 Zest 1 organic lemon (1TBS or more)
Scant ¼ cup egg (mix with fork or whisk)
½ tsp Vanilla 1 ½ TBS avocado Oil
½ cup ground macadamia nut (flour) – do not grid the nuts too much or they will turn into a butter, the texture will be chunkier than almond flour (that's okay)
3 TBS almond flour
¼ cup plus 1 TBS Protein Powder
¼ tsp baking powder
¼ cup monk fruit
¼ cup sliced, chopped, almonds
Preheat oven to 350 and prepare a cookie sheet with parchment paper. Mix dry ingredients in a bowl. In a small bowl mix lemon zest, egg, vanilla and avocado oil with a fork. Combine wet and dry ingredients to form a ball. Press the ball onto prepared cookie sheet to measure about 7" long and ¾" wide. Bake for 25-27minutes until center is cooked through (check with tooth pick).
Remove from oven, cool on the pan 10-15 minutes. Turn the oven down to 250. Using a spatula move the large cookie to a cutting board. Using a serrated knife cut into ½ inch cookies (usually 10-11). Place cookies back on the cookie sheet with cut side down.
Put the cookies in the 250 oven for 27 minutes until they start to brown. Cool completely on the pan. Then put them in an airtight container to stay crunchy. Plastic containers can cause the cookies to become soft.
Revolution-C™ is a powerful, yet gentle formula that combines premium, buffered vitamin C (from a GMO-free source) with dihydroquercetin (DHQ), a unique plant flavonoid that may synergistically enhance vitamin C's effectiveness as an antioxidant. It also includes BioPerine® black pepper extract, may help increase the absorption of vitamin C into the bloodstream.

PRODUCT HIGHLIGHTS
• A highly bioavailable vitamin C formula that features a blend of two sources of vitamin C: pure ascorbic acid and calcium ascorbate*
• Enhanced with dihydroquercetin (DHQ), a unique plant flavonoid that may synergistically enhance vitamin C's free radical fighting power and effectiveness by helping to re-circulate it within the body*
• Also contains BioPerine® black pepper extract, an antioxidant that may help increase the absorption of vitamin C in the bloodstream* • Provides powerful antioxidant support against cell-damaging free radicals, supports optimal immune function and promotes overall cardiovascular wellness*
• Helps promote synthesis of collagen, which is vital for healthy skin and blood vessels*
• Made in an FDA inspected facility to meet the stringent standards of US Pharmacopeia (USP) for quality, purity, potency and disintegration
What Makes Revolution-C™ a Superior Vitamin C Supplement?*
1. Non-GMO Vitamin C (800 mg): Revolution-C™ includes the optimal 1,000 mg dose of vitamin C from a blend of ascorbic acid and calcium ascorbate, two superior sources of vitamin C. The vitamin C found in most supplements is synthesized from genetically modified corn.*
2. Dihydroquercetin (DHQ) (25 mg): Revolution-C™ is enhanced with DHQ, a unique flavonoid derived from the larch tree bark that may synergistically enhance vitamin C's effectiveness as an antioxidant by helping to re-circulate it within the body.*
3. BioPerine® Black Pepper Extract (5 mg): Revolution-C™ is further enhanced with BioPerine®, a well-studied black pepper extract that is standardized to contain 95% piperine. BioPerine® has been shown to increase vitamin C absorption within the bloodstream.*
4. Made in the USA: Revolution-C™ is made in the USA in an FDA-inspected facility to meet the US Pharmacopeia's (USP) high standards for purity, potency and quality.
The Many Benefits of Vitamin C*
Vitamin C is an antioxidant that is found in many fruits and vegetables. High doses of vitamin C can help improve immune function, cardiovascular wellness and overall health. Vitamin C also plays a role in promoting the synthesis of collagen, which is vital for healthy skin and blood vessels.* Unlike plants and most animals, humans are unable to manufacture vitamin C within the body and therefore must obtain it from dietary sources. This fact is the reason that many researchers, including the renowned Nobel Prize-winning chemist Linus Pauling, suggest that many of us humans would enjoy better health if we supplemented our diets with amounts of vitamin C proportional to the amounts produced by animals that have the ability to manufacture their own vitamin C. That means high doses of vitamin C that far exceed the Recommended Daily Allowance (RDA). The current RDA is set at 90 mg/day for men and 75 mg/day for women which many experts believe is woefully inadequate. In addition, it's important to note that levels of vitamin C within the body also decline with aging, which can make supplementation increasingly important.*
Stopagingnow.com
In a study, a team of researchers from China and the United Kingdom determined that eating an egg a day could actually reduce the risk of developing cardiovascular disease, BMJ reports. Researchers analyzed over 400,000 individuals in China, aged between 30 and 79 years old, and located in various geographical areas. The findings were published in the journal, Heart, and led by Professor Liming Li and Dr. Canqing Yu of the School of Public Health, Peking University Health Science Center.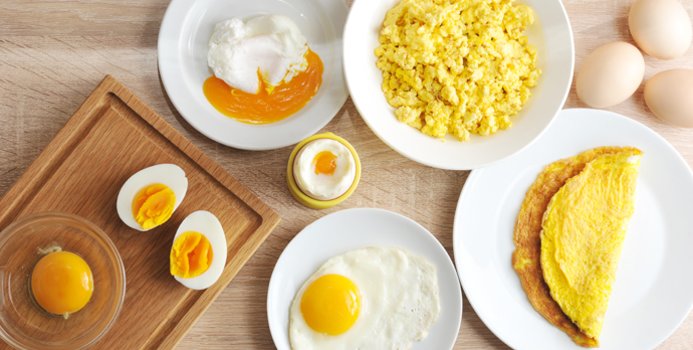 According to BMJ, the results indicated that those who consumed eggs daily (which the publication notes was estimated to around 5.32 eggs/week), compared to those individuals who rarely consumed eggs, had a lower risk of cardiovascular disease. Not only that, but they were also 26 percent less likely to suffer from a hemorrhagic stroke.
There is something to remember about a Chinese diet and a WESTERNERS TRADITIONAL BREAKFAST and that is; eating an egg with vegetables and rice and fish soup is better than a Western style breakfast of refined white toast, processed meat and sugar laden ketchup. With the right combination of nutrition eggs can be a beneficial addition to reduce the risk of heart disease.
An intervention study conducted in California found that (unsurprisingly), using an air purifier resulted in significant improvements in nasal symptoms in children with hay fever. The Samsung air purifier used in that study contained a HEPA filter that captured particles 0.3 microns and larger. Another HEPA air filter used in a 2018 study in China found that it improved symptoms in patients with hay fever. Studies have also shown that interior foliage changes air particle accumulation – rooms containing vegetation have lower levels of air particles.
Different plants may attract and remove specific toxins better than others, though, making it a good idea to use multiple species. Here's a rundown of the top plants for different types of airborne toxins (peer-reviewed Journal references for this list are here, here, here, here and here).
A great way of starting an evaluation of your air is by using 2 petri dishes one for out side and one for inside then cover in foil and set in a cool dark place and see what grows. Dr. Pam
Plants that Have Been Shown to Remove Specific Toxins
Trichloroethylene: Epipremnum aureum (devil's ivy or 'money plant')*
Benzene: Epipremnum aureum (devil's ivy or 'money plant')*, Spathiphyllum spp. (peace lily)
Toluene: Hedera helix (common ivy), Philodendron spp., Sanseviera spp. (devil's tongue or snake plant)
Xylene: Zamioculcas zamiifolia (ZZ plant)
Formaldehyde: Osmunda japonica (Japanese royal fern), other ferns, Spathiphyllum spp. (peace lily), Chlorophytum comosum (spider plant)
General VOC removal: Purple waffle, Purple heart, English Ivy, Asparagus fern, Variegated wax and Crassula portulacea (jade plant)
Polycyclic aromatic hydrocarbons: removal attributed to bacterial species present on leaves of many ornamental plants (nonspecific)
Mercury vapor: Tillandsia usneoides (Spanish moss)
Ozone: snake plant, spider plant, golden pothos
General toxin removal: Spider plant, peace lily, english ivy and golden pothos
*Grown on an activated carbon filter system. Activated carbon is available for potted plants.
While it's nice to have some data that link specific species to the removal of specific toxins (especially if you know you have specific exposures or an elevated body burden of a specific toxin), the research isn't that extensive, and so we would still recommend a variety of species. Keep the air in your living and working spaces moving, too, since air movement increases the effectiveness of plants at removing toxins.
Fascinating Fact! While you may think that plants collect and detoxify air pollutants through their leaves, it's actually their roots and the plant's associated microorganism population that take up and process toxins.
Things to know about keeping healthy houseplants – avoid introducing plants to your home that have been sprayed with pesticides or come in plastic pots. Water your plants appropriately but don't allow them to become moldy. Dust leaves to maintain their effectiveness and reduce the room's dust burden.
Reducing indoor air pollutant sources helps to minimize their levels in your home or office to begin with. Use building and decorating products that have no or fewer toxin emissions. Don't use or store chemicals, solvents, glues or pesticides. Keep your home smoke free. Use exhaust fans in kitchens, baths and laundry areas. And minimize the use of candles and wood fires.
Consumer Reports has a review of air machine purifiers.
Author: Romilly Hodges, MS CNS
https://www.drkarafitzgerald.com/
Scientists are calling these chemicals "endocrine disruptors."
First, though, I want you to know these dangerous substances are in more places than just plastic water bottles.
They're also found in countless household items like:
Clothes, carpets, cosmetics, furniture, store receipts, and many of the foods you eat — just to name a few.
But wait, how exactly do these "endocrine disruptors" sabotage your health and wreck your waistline?
Well, the way I explain it to my patients is simple...
Your body controls pretty much every process inside you using chemical signals called hormones.
These hormones regulate your metabolism, appetite, energy levels, mood, sleep cycles, and more...
And your body manages these hormones with a special "hormone computer." (It's called your endocrine system.)
Now, here's where things go haywire...
Endocrine disruptors have the ability "hack into" your system by DISGUISING themselves as hormones.
When this happens, you stop receiving messages from your REAL hormones...
And start getting messages from these hormone imposters instead!
Once the imposters gain access, WATCH OUT! They quickly start...
Making you hungrier
Slowing your metabolism
Zapping your energy
Attacking your joints
Clouding your thinking
Now the question is, if endocrine disruptors are so bad... why are they being allowed into all of your household products?
Well, this was the exact subject of an INFURIATING report I just read. (It's also why I'm going to reveal a solution I've devised in a moment.)
The report was released on July 1st by The National Coalition Against the Misuse of Pesticides — a D.C.-based consumer safety organization.
It detailed how, despite growing evidence about the dangers of endocrine disruptors to the American public… 
The government has knowingly turned a BLIND EYE to these dangers since at least 2009.
And during my research, I discovered a total of 4 proven compounds that can help neutralize these sneaky hormone imposters. 
One in particular goes by the name KSM-66.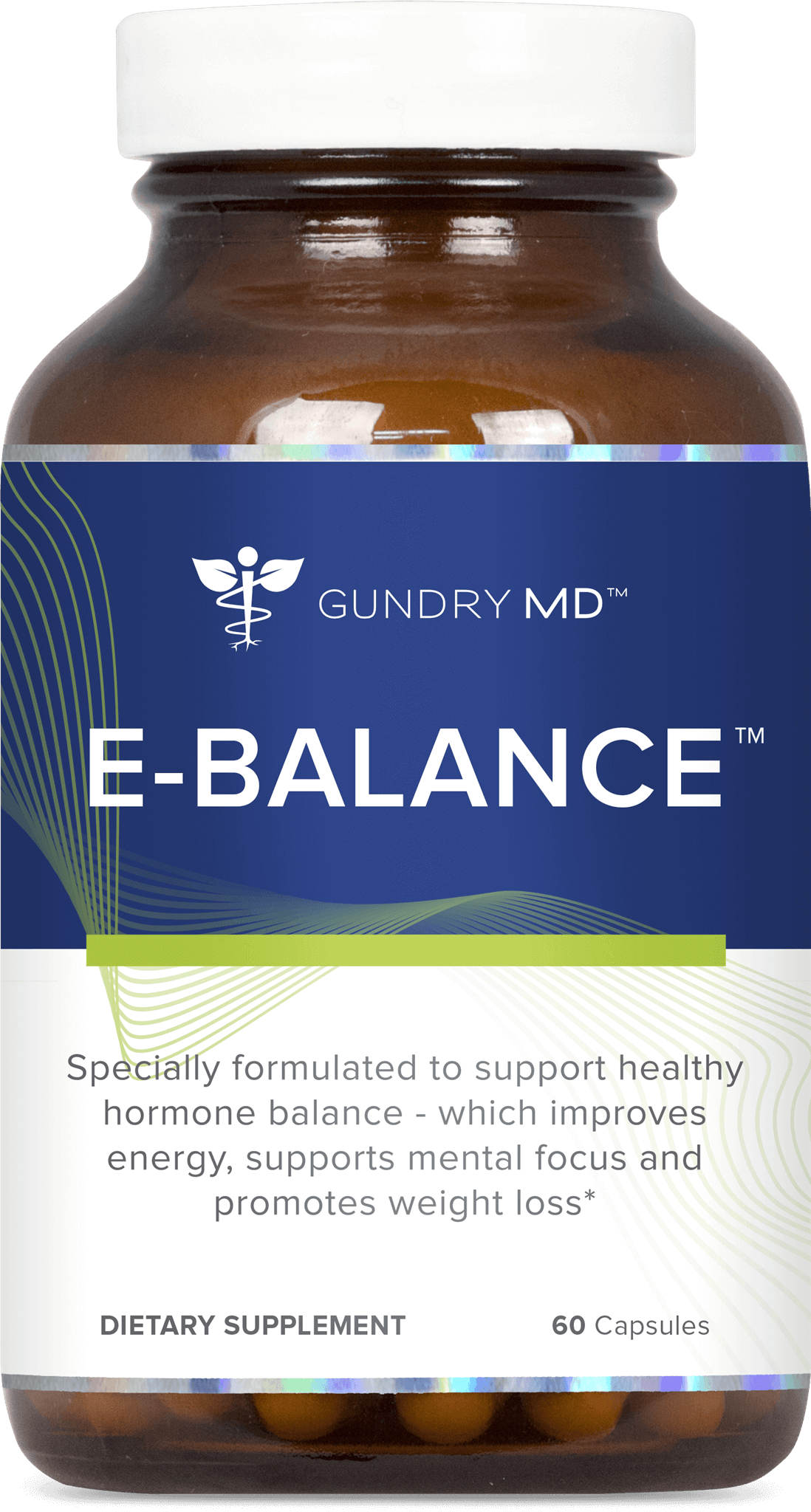 KSM-66 is almost impossible to get your hands on these days. It's the most potent form of an ancient Indian plant extract called ashwagandha.
This plant has been around for centuries. It has an amazing ability to protect the endocrine system. So it can soothe irritated joints, reduce stress, boost mood, and support overall health.
Studies have also linked KSM-66 to improved levels of focus and concentration… along with a slimmer body.1, 2
Dr Gundry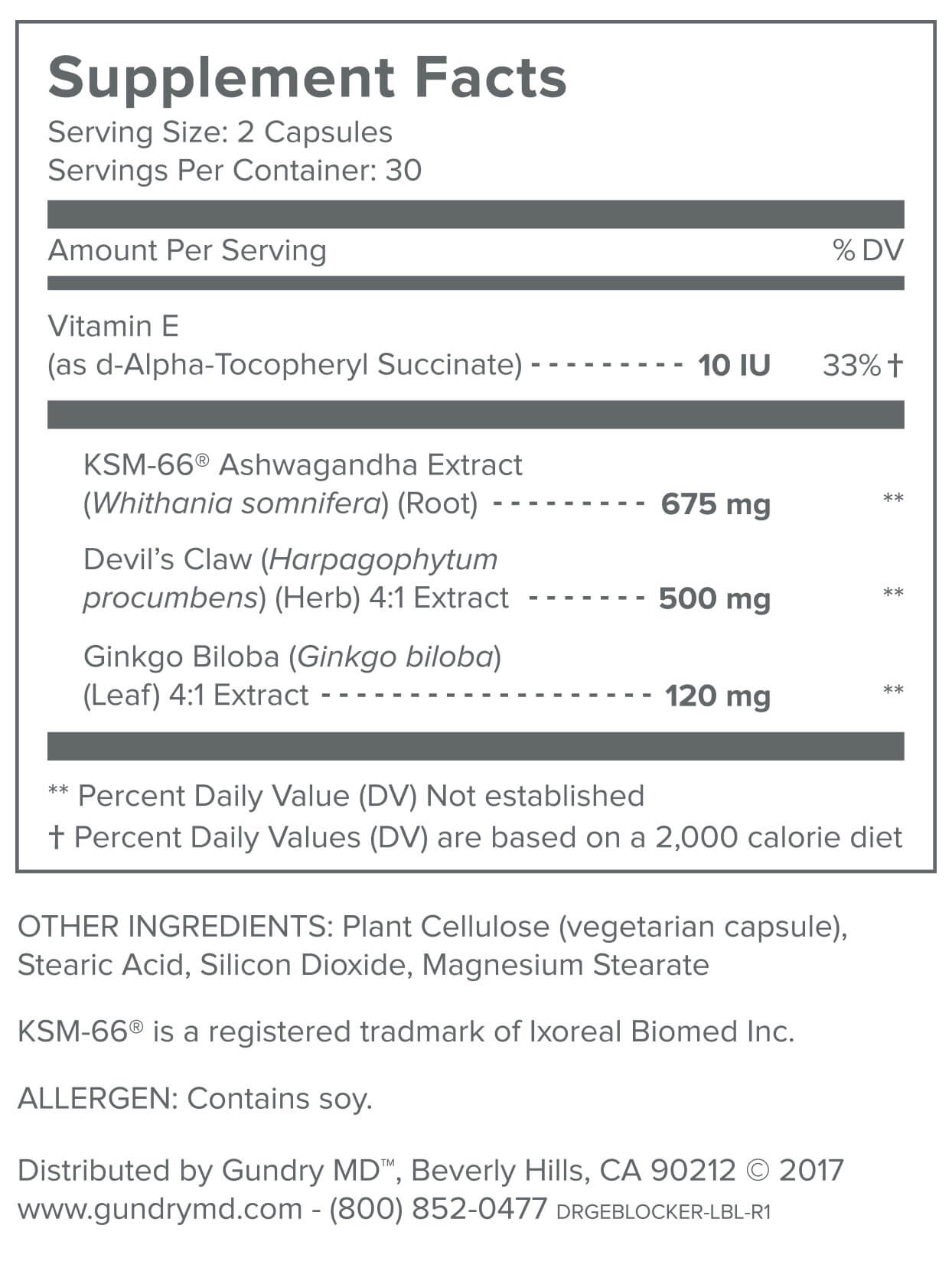 But first — here's the quick and easy recipe for my Pear and Sage Olive Oil Snack Cake:
Ingredients (serves 8-12):
FOR THE CAKE:
⅔ cup extra virgin olive oil, divided (1/3 for saute and 1/3 in the cake)
2 green pears, peeled and diced
2 Tbsp sage, minced
1 ½ cups blanched almond flour
Zest of 1 orange
Zest of 1 Lemon
1 cups xylitol
2 tsp baking powder
Juice of 1 lemon
4 eggs, beaten (or approved vegan egg substitute equivalent)
½ cup water
FOR THE SYRUP:
½ cup water
Juice of 2 lemons
4 tablespoons xylitol
Instructions:
Grease an 8 inch cake tin with olive oil (ideally a springform pan).
Heat half the olive oil over medium heat, and add pears and sage. Saute until pears are tender and sage is fragrant, then remove from heat and let cool.
In a food processor fitted with an "S" blade, pulse the almond flour and orange zest until well combined.
Transfer to a mixing bowl and stir through the xylitol, baking powder, and lemon zest. Add the lemon juice, olive oil, and eggs, and mix until combined.
When cool, add the pear, olive oil, sage mixture to the batter, and fold in until well-combined.
Pour batter into prepared cake pan, then put into a cold oven. Turn oven to 350 degrees, and bake for approximately 25-30 minutes, or until a skewer inserted into the center of the cake comes out clean.
Leave in the tin for 5-10 minutes to cool.
While cake is cooling, make the syrup. Gently heat all of the ingredients until the xylitol has dissolved.
Bring to a gentle boil for 5 minutes, allowing the rosemary to infuse.
Pierce holes in the cake and pour the syrup over while still warm.
So… what makes this snack cake so good for you?
Well, aside from being loaded with vitamin C, vitamin K, and fiber (which helps feed your good gut bugs)...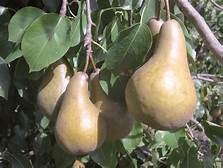 Pears, sage, and orange zest have REALLY high levels of antioxidants… which help destroy the free radicals that cause aging and illness.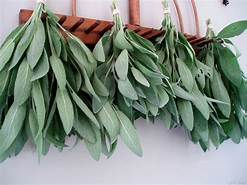 But what really gives this recipe the "Gundry Stamp of Approval"? It all comes down to its star ingredient: Olive oil!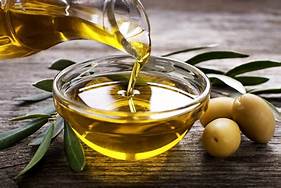 Olive oil helps to improve brain function, promote weight loss, strengthen the immune system and so much more.