"Echinacea the miracle herb against Aging and Cancer" has been studied and found to be abe to boost NK cells.
Natural killer cells (also known as NK cells, K cells, and killer cells) are a type of lymphocyte (a white blood cell) and a component of innate immune system. NK cells play a major role in the host-rejection of both tumours and virally infected cells.They are the key immune cell line of defense and can be counted on to reduce the frequency of death in advancing age.
Since NK cells decline in function and number with age, Echinacea can boost their production in just 2 weeks of an oral dose. Function was also restored. Don't be afraid of long term use. Take your echinacea 2X per day.
A good product is from Medi herb Echinacea premium.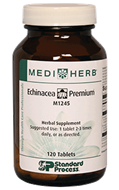 Miller, Sandra. (2005). Echinacea: a Miracle Herb against Aging and Cancer? Evidence In vivo in Mice. Evidence-based complementary and alternative medicine : eCAM. 2. 309-14. 10.1093/ecam/neh118.
Are you thinking of going on a detox?
This powerful combination of micronutrients, fiber, fruit and vegetable extracts supports safe and effective detoxification. Take a look at Juice Plus all of the nutrients without the sugar.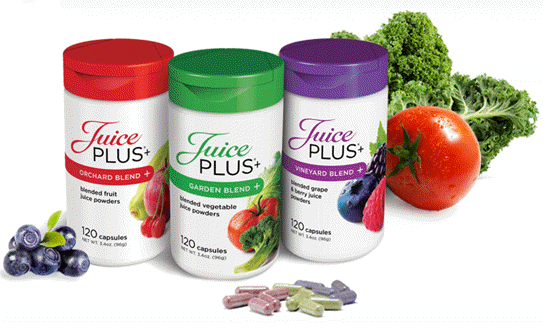 Juice Plus+ products are made from the juice powder concentrates and oils from more than 40 different fruits, vegetables and grains. While Juice Plus+ isn't a substitute for eating fruits and vegetables, our whole food-based products support a healthy diet by offering a much wider variety of naturally occurring vitamins, along with antioxidants and phytonutrients found in fruits and vegetables. Every Juice Plus+ product is made from quality ingredients grown farm fresh, providing the natural nutrients your body needs.
 
TOP 5 Supplements I Recommend for your Health and Wellness
I am all for eating organic and locally grown foods for our health however there are times when people have a need to consume large amounts of macronutrients for the healing affect and it is just not easy to eat that many fruits and vegetables.That is when high quality supplements can provide the needed nutrients for your health.
Here is my list: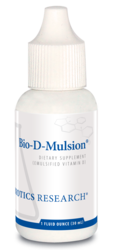 Vitamin D in liquid form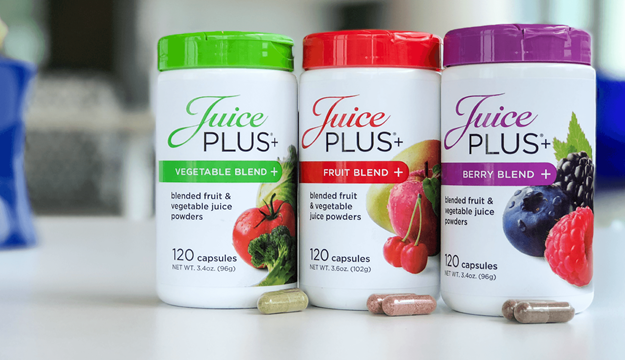 Juice Plus Berrys,Greens,and Orchard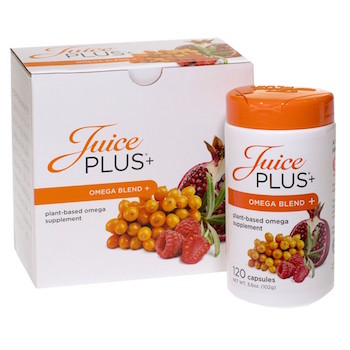 Omega 3 fatty acids, Vegetarian option

Inferior fish oil and krill oil brands lack this phospholipid complex. Instead they contain omega-3 fatty acids in the less beneficial form of free triglycerides. Here is what we recommend.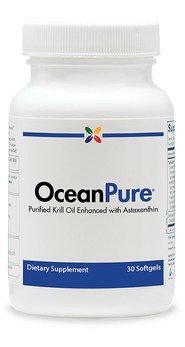 Omega 3 fatty acids
Berries in Juice Plus w/o the sugar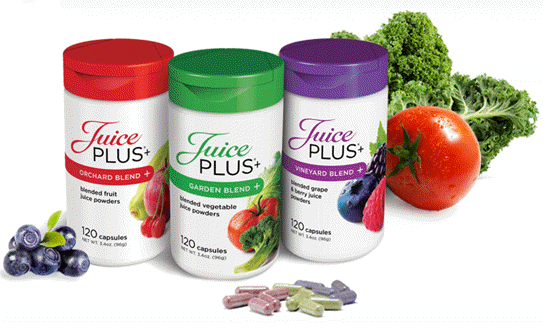 Berries are rich in colorful, polyphenol-type antioxidants called anthocyanins — the same plant chemicals that color autumn leaves so brightly.
Along with berry fibers, the polyphenols in berries likely account for most of their apparent ability to reduce diabetes risk.
In a recent evidence review, researchers from China's Zhejiang University examined eight studies that compared people's intake of either berries or berry-source anthocyanins to their chances of developing diabetes (Guo X et al. 2016).
The Chinese team's analysis linked higher anthocyanin intakes to a 15% lower risk for diabetes, and higher berry consumption to an 18% drop in risk.
Specifically, the risk of diabetes declined by 5% with every 7.5 mg of anthocyanins or 17 grams (just over one-half ounce) of fresh berries consumed daily.
The evidence review's authors attributed these estimated risk reductions to three documented properties of dietary anthocyanins:
• Antioxidant effects (indirect).
• Stabilize blood sugar (glucose) levels.
• Dampen inflammation, which promotes and aggravates diabetes.
We should note that polyphenols and other food-borne "antioxidants" don't exert direct antioxidant effects in the body. 
Instead, they prompt our genes to ramp up the body's own antioxidant network, while curbing damaging inflammation and excessive production of free radicals.
Earlier research points to fruits and veggies
Another recent analysis — which encompassed 23 research papers — produce similar findings.
Its authors looked for links between intake of fruits, vegetables, and their fiber, and the risk of Type II diabetes (Wang PY et al. 2015).
The results linked higher intakes of fruits — especially berries — with reduced risk for diabetes.
Strong links were also seen between reduced diabetes risk and higher intakes intake of colorful vegetables, including cruciferous types like broccoli and kale.
Fruit and vegetables are rich sources of fiber, antioxidants, folate, and potassium, the combination of which could explain their protective effects.
And diets high in fruits and vegetables will tend to be lower in foods that promote diabetes, such as white flour goods — and cheap, omega-6-laden, inflammation-promoting vegetable oils (such as corn, soy, safflower, sunflower, and cottonseed)
Dietary fiber appears to improve insulin sensitivity, slow absorption of carbohydrates, and support insulin production.
In addition, the antioxidants in fruits and vegetables tend to reduce oxidative stress, which interferes with our cells' ability to absorb blood sugar.
There's also evidence that food-borne antioxidants improve insulin sensitivity and thereby reduce the risk or severity of diabetes.
Diabetes-Diet Cure Claims; Berries Enter the Fray
Berry news fuels a raging debate over diabetes cures and foes; The Healthy Skeptic weighs in
11/16/2016 By Craig Weatherby with Michelle Lee