Sheet Pan Vegetable Hash with Eggs Rating:
5 starshttps://www.marthastewart.com/1544479/sheet-pan-vegetable-hash-eggs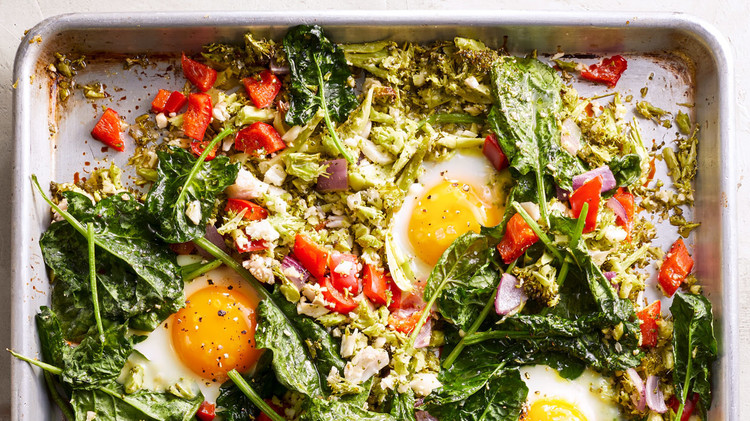 Flipping the script on what a hash is supposed to look like, this one-pan-wonder swaps potato for finely chopped cauliflower and broccoli, making this simple plant-based bake as nutritious as it is delicious.
Recipe Summary
Prep:20 mins
Total: 55 mins
Servings: 6
Ingredients
• 1 small head cauliflower, trimmed, cored, and cut into florets
• 1 pound broccoli, trimmed, stem peeled, and cut into 1 inch pieces (greens and stems)
• 1 red bell pepper, seeded and diced
•1/2 red onion, diced (1 cup)
• 1/4 cup extra-virgin olive oil
• Kosher salt and freshly ground black pepper
• 2 packed cups baby spinach
• 6 large eggs, room temperature
Directions
• Step 1 Preheat oven to 425°F. Pulse cauliflower in a food processor until finely chopped (you should have about 4 cups). Transfer to a rimmed baking sheet. Repeat with broccoli and transfer to baking sheet. Add bell pepper and red onion and drizzle with olive oil; toss until well combined. Season with salt and pepper; spread in an even layer and roast, stirring once, until golden around edges, 25 to 30 minutes.
• Step 2 Remove sheet from oven; stir in baby spinach. Make 6 small wells in mixture with the back of a spoon. Crack an egg into each well and bake until whites are just set, about 5 minutes. Season eggs with salt and pepper and serve immediately.
Categories: Nutrition