"Echinacea the miracle herb against Aging and Cancer" has been studied and found to be abe to boost NK cells.
Natural killer cells (also known as NK cells, K cells, and killer cells) are a type of lymphocyte (a white blood cell) and a component of innate immune system. NK cells play a major role in the host-rejection of both tumours and virally infected cells.They are the key immune cell line of defense and can be counted on to reduce the frequency of death in advancing age.
Since NK cells decline in function and number with age, Echinacea can boost their production in just 2 weeks of an oral dose. Function was also restored. Don't be afraid of long term use. Take your echinacea 2X per day.
A good product is from Medi herb Echinacea premium.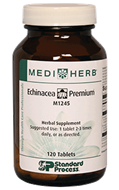 Miller, Sandra. (2005). Echinacea: a Miracle Herb against Aging and Cancer? Evidence In vivo in Mice. Evidence-based complementary and alternative medicine : eCAM. 2. 309-14. 10.1093/ecam/neh118.
Categories: Nutrition