Sick this Winter?
Think about supporting your immune system with Epimune from Standard Process
What components in Epimune Complex are important for immune system support?
Epimune Complex contains several ingredients thought to be important for immune system support, including EpiCor®, several mushroom ingredients (maitake and turkey tail powders and MaitakeGold 404®), calcium lactate, zinc rice chelate, and acerola.
EpiCor is an ingredient produced from dried fermented baker's yeast (Saccharomyces cerevisiae) that contains beta glucans from the yeast cell walls and metabolites from yeast. Beta glucans are known immunomodulators.
Several mushroom species and components from mushrooms, such as the polysaccharide and glucan components, have demonstrated in vitro and in vivo immune-modulatory function.
Calcium is involved in cell signaling, and zinc is essential in the functioning of over 100 different enzymes in the body and in cell communication.
Lastly, acerola is a rich source of vitamin C, which serves several roles in the body important to immune system function through antioxidant activity.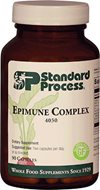 Categories: Nutrition