Keto Biscotti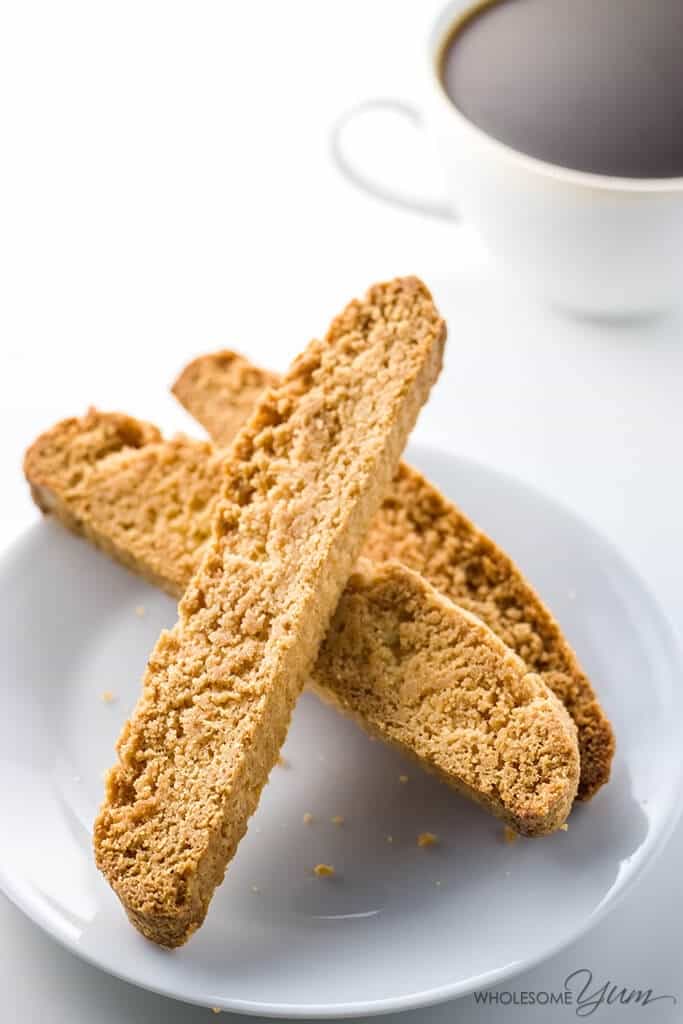 Zest 1 organic lemon (1TBS or more)
Scant ¼ cup egg (mix with fork or whisk)
½ tsp Vanilla 1 ½ TBS avocado Oil
½ cup ground macadamia nut (flour) – do not grid the nuts too much or they will turn into a butter, the texture will be chunkier than almond flour (that's okay)
3 TBS almond flour
¼ cup plus 1 TBS Protein Powder
¼ tsp baking powder
¼ cup monk fruit
¼ cup sliced, chopped, almonds
Preheat oven to 350 and prepare a cookie sheet with parchment paper. Mix dry ingredients in a bowl. In a small bowl mix lemon zest, egg, vanilla and avocado oil with a fork. Combine wet and dry ingredients to form a ball. Press the ball onto prepared cookie sheet to measure about 7" long and ¾" wide. Bake for 25-27minutes until center is cooked through (check with tooth pick).
Remove from oven, cool on the pan 10-15 minutes. Turn the oven down to 250. Using a spatula move the large cookie to a cutting board. Using a serrated knife cut into ½ inch cookies (usually 10-11). Place cookies back on the cookie sheet with cut side down.
Put the cookies in the 250 oven for 27 minutes until they start to brown. Cool completely on the pan. Then put them in an airtight container to stay crunchy. Plastic containers can cause the cookies to become soft.
Categories: Nutrition